SNAPTABLE PRO HYPER-LITE – OUR MOST ADVANCED STANDING SEAM TOOL
Factory Cuts Without The Factory
REDUCE Labor costs, material waste & time by 35% ANNUALLY
3
TOOLS
IN ONE Now Available on a Transportable Trailer

Finish Your Jobs In Half The Time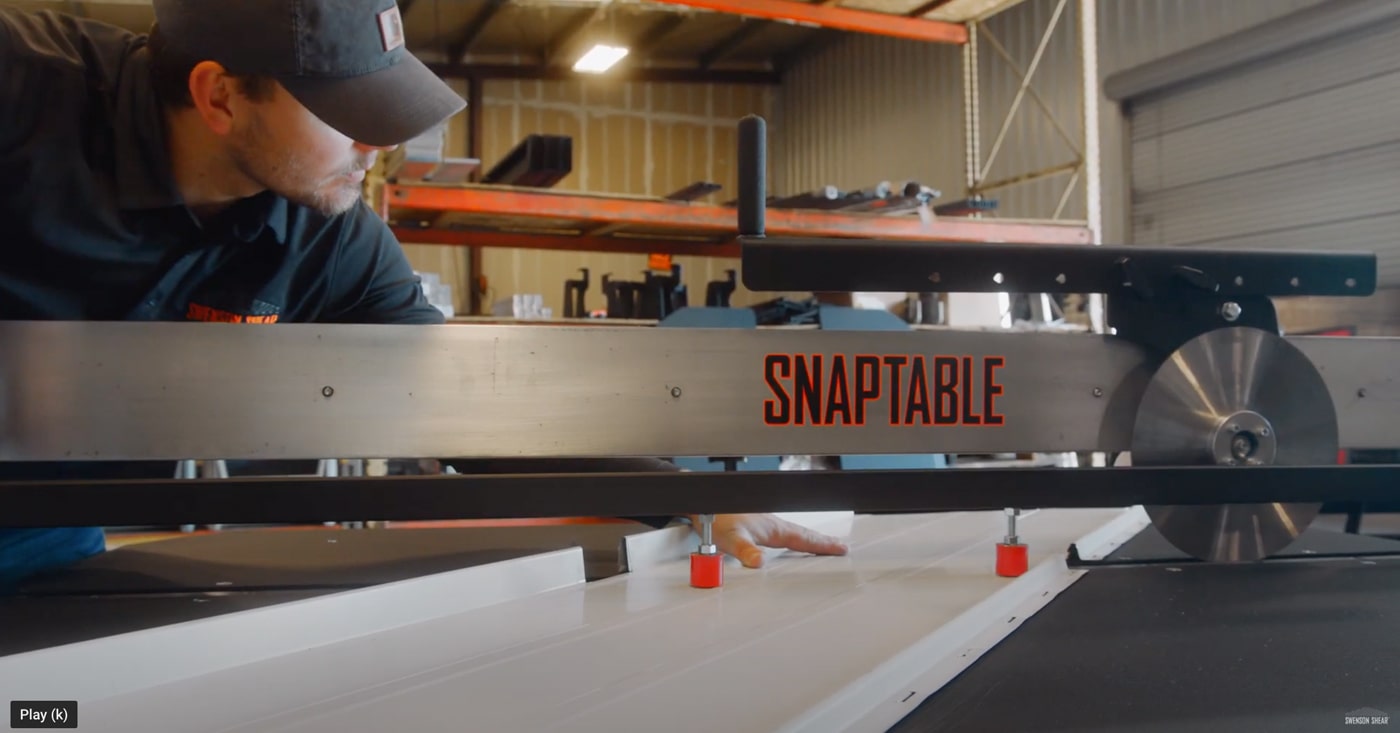 The Swenson Shear Advantage
2 Year
Manufacturer
Warranty
$0 Down
Financing
Available
Portable &
No Electricity
Required
Reduce
Overhead
& Crew Size
Improve Job
Speed &
Productivity
Save Money
On Every
Job!
Featured Projects
SUCCESSFUL PROJECT SHOWCASE
Frequently Asked Questions
Do you offer financing?
Yes, we offer $0 Down financing on your equipment purchase. Give us a call for more details.
What is your average delivery time?
Allow about 2-3 weeks for delivery, if we have the profile ready and available it may be a little as a few days. If you have an order and need it ASAP, contact us and we will work with you.
What parts of the world do you ship to?
What will you need to know when ordering Shears?
We will need to know: What profile you are cutting, who you buy your metal from, and what pitch are you working on.
What is the warranty for the SnapTable PRO?
The Snaptables are warrantied to be free from manufacturing defects for a period of two years from the date of purchase.
Which Shear do I need?
a. If you shearing to length (AKA Straight cuts)

You will need the M42 Straight cut shear

b. If you are not shearing to length (not doing straight cuts) then depends on what type of angles are you doing:

If Gables – You will need the M48 Shear Heavy Duty Pivot Shear

If Valleys – You will need the M64 hip/valley roofing shear

If Both – You will need the M64 hip/valley roofing shear
ROOFING PROJECT
Success Stories
"Bottom line is that purchasing a SnapTable will allow your company to do higher quality work and do it faster than you ever thought possible."
Mark Young
Prime Roofing, Jacksonville, FL
"The biggest benefit of the SnapTable is the quality of exposed valley cuts and the amount of time it saves. At first members of our team resisted the SnapTable preferring to snip by hand, but now, they take to each and every job site."
Jerry Iselin
Metal Roof Specialties, Tacoma, WA
"The time and effort that Jonathan Dravecky and the Swenson Team has put into the new SnapTable HD is evident and is the reason why we're looking to partner going forward. Truthfully this partnership is a natural fit. With the SnapTable HD, our Drexel panels are beautifully notched and hemmed, providing a seamless cut allowing for a cleaner eve and a more consistent product in the field."
Brian Partyka
Drexel Metals
"We do all types of roofing but by far my favorite roofing material to sell and install is standing seam metal. It lasts forever, it's beautiful, and there is a real art to installing it correctly. Anyone reading this knows that standing seam takes a little extra time to make your cuts and hems look nice and professional.
We typically have a couple of guys on the ground just for prepping panels to send up to the guys on the roof, and our guys on the roof are almost always waiting on the guys on the ground to prep the panels. The process has worked fine for a long time, it's just time consuming…I truly believed that there had to be a better and more efficient way to notch, cut and hem these panels.
I went ahead and purchased the Swenson Shear SnapTable… if you ask any of the guys on my crew, they will tell you that the Swenson Shear was the very best purchase/investment I have ever made!! I now truly regret not buying the Swenson Shear sooner. Not only did it double our production rates, but now we only have one guy on the ground taking the panels from the roll former (or stacked up from a chop and drop), notching/slitting/hemming the panels and then passing them up to the guys on the roof. This has freed up my other guys to get all the things other than prepping panels that takes so much time.
I truly can't imagine how much money the Swenson Shear has made me, but I know for sure I have made enough money with it to pay for the machine over, and over many times!"
Owen Hall
Rosner Roofing, Broomfield, CO
"My experience with the SnapTable PRO from Swenson Shear is that it helps my crew a lot on all our jobs, and it makes our jobs faster. Once we open the notchers, we slide them through and then finish the other parts of the cut.
The most important thing for me is that the job is done professionally, with great factory-like cuts. When we do this by hand, the cuts and folds don't come out even and sometimes you can see imperfections on the panels, but with this machine they come out perfect.
You'll never have issues with your customer being unhappy with the finished product because of uneven bends and folds, or simply because the panels don't look right. Not only that, by using this machine we save a lot of time because it's a one-man operation. We only need one guy to do everything on this machine, so it saves time, the jobs look much better and when we have big valleys and have to use big panels, the machine helps us cut them perfectly."
Edwin Rodriguez
Nomads Roofing, Siloam Springs, AR
"Our team at Long Creek Steel LLC wants to thank Swenson Shear for not only the quality products you provide to us, but affordable pricing and unbeatable quick service!"
George Hofer
Long Creek Steel LLC, , Beresford, SD
"We have used Swenson Shear's tools for the last sixteen years. These shears work remarkably well on various types of jobs for us, including commercial, military, and school projects. Without a doubt, the thing that keeps me coming back to Swenson, is how strong and reliable the tools are."
Mr. Don Baker,
Southern Metal Systems, Wendell, NC
"I highly recommend the SnapTable on every job! Swenson Shear's engineering behind the hemmer is genius. I have never seen anything like it. I take the SnapTable to every job site. In fact, I built a custom trailer and cover for our SnapTable."
Frank Eason
Eason Roofing, York, SC
"Cornerstone Roofing is a small company located in Panama City, Florida. We have been a customer of Swenson Shear since 2002 when we purchased the Model 64. We found this shear to be a time saver for cutting hips and valleys on 36 inch screw down panels (AG panel). In April of 2005, we purchased the SnapTable and added the hemmer in February 2012.
This equipment enables us to offer a superior installation while saving us hours of labor cost. If you install metal roofing, let me recommend that you contact Swenson Shear. Their product is the best, their service is second to none and their staff, well – you won't find better folks."
Cornerstone Roofing
Cornerstone Roofing, Youngstown, FL
"We purchased the SnapTable in January of 2013 and very pleased with performance; it has saved our company time and money. We highly recommend the SnapTable and Pivot Shear to anyone. They are great products!"
"We own three shears from Swenson and our team has received nothing less than excellent service from them. They save us a lot of time on diagonal cuts on sheet metal and are easy to use. Many of our customers are residential contractors and we always encourage them to use the Swenson Shear."
Douglas Unruh
Central Steel Building Systems, Louisville, GA