SnapTable PRO Hyper-Lite
The Best Standing Seam Tool For Metal Roofing Projects
Save TIME and MONEY with the SnapTable PRO Hyper-Lite and deliver factory-like quality on the job site. The SnapTable PRO Hyper-Lite is a towable, all-in-one metal roof panel preparation system for standing seam metal roofing projects. The SnapTable PRO Hyper-Lite is the ideal metal roofing tool to improve your panel preparation process. It is designed to perfect and speed up your sheet metal roof panel preparation process while producing factory-like cuts.
This Hyper-Lite version features a new trailer that is more compact for tighter spaces.
What's Included in the SnapTable PRO Hyper-Lite?
This complete system is made up of 3 key components. Let's take a look at each of them individually.
The Standing Seam Notcher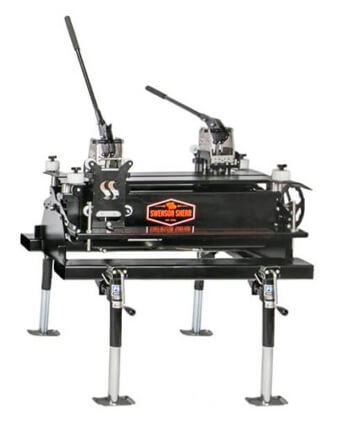 This powerful and effective metal notching tool creates the perfect cut through your standing seam ribs with little physical effort, basically eliminating the need for hand notchers. It notches the standing seam ribs on both male and female sides of the metal panel in seconds and can accommodate panel from 12″-24″. Use the notcher for straight or angle cuts with up to a 29″ offset. To notch at an angle, simply locate the desired angle on the degree operator ruler on the machine and shift the notcher on the operator side of the machine accordingly. The Standing Seam Notcher comes with your choice of custom dies, with additional dies available for purchase. LEARN MORE
The Panel Cutter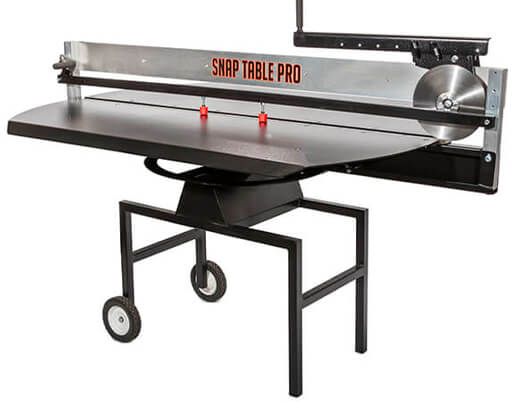 Welcome to the best standing seam cutting tool on the planet. The Panel Cutter helps you cut through metal roof panels in seconds, providing a perfect straight edge cut across the flats of each standing seam metal panel cleanly and evenly, free of burrs. The dual edge blade is designed to double the life expectancy of your blade, providing thousands of clean cuts during its life span. The Panel Cutter is built for a max cut length of 60″, can rotate 360 degrees, and comes with a base stand and wheels for easy transportation to and from your work site. LEARN MORE
The Eave and Valley Hemmer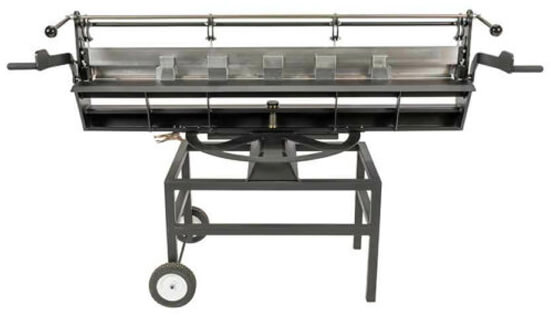 Create a perfect hem on your metal sheet roofing panel in seconds with the Eave and Valley Hemmer. This ingenious metal bending hemming tool allows roofers to bend sheet metal roofing panels for standing seam roofing jobs without the need for pliers, snips, hand seamers or other hand tools. Unlike other sheet metal bending tools, the Eave and Valley Hemmer helps you create perfect lines consistently with on your hips, eaves and valleys. And because it works with every possible profile, this machine pairs perfectly with any sheet metal forming machine, adding a powerful, time-saving component to your setup. LEARN MORE
Note: Additional notchers available to accommodate other panel profiles.
Read More
Specifications
Benefits Of The SnapTable PRO Hyper-Lite
Features
Panel Sizes:
12 inches – 24 inches
Notching Offset:
29 inches
Cutting Capabilities:
Up to 60 inches
Hemming Capabilities:
Up to 60 inches
Suggested Maximum Panel Thickness:
20 gauge
Purpose:
All-in-one panel preparation tool – notches, cuts, and hems panels in seconds
What makes the SnapTable PRO Hyper-Lite the perfect standing seam tool for your professional roofing needs? Let's look at just a few of the advantages.
1. All-in-One Functionality
The SnapTable PRO Hyper-Lite is designed as an all-in-one tool, equipped with all the functions you need to prepare flawless metal panels for a standing seam metal roofing system. No more hauling multiple tools to the job site; the SnapTable PRO Hyper-Lite has it all!
2. Complete Versatility
The SnapTable PRO Hyper-Lite is designed for use with all types of standing seam metal roof panels, including Nail Strip, Cor-Ten, Snap Lock panels, Mechanical Seam, Zip-Rib and others. Use it to prepare panels between 12-24 inches in size with cutting and hemming capabilities of up to 60 inches. It can even handle angle cuts for gables, hips, and valleys. You'll be amazed at how much you can do with one workstation.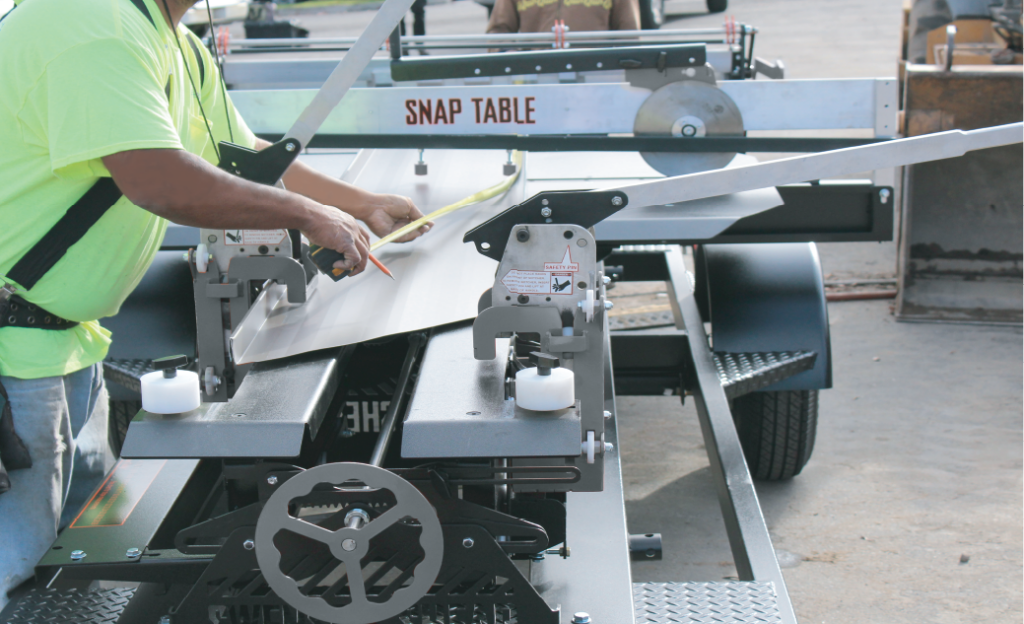 3. Single-Person Operation
The cost of skilled labor can quickly cut into your bottom line. The SnapTable PRO Hyper-Lite can be operated by a single person (as opposed to a team of 2-3 laborers) with minimal physical effort–saving you between 35-40 percent in labor costs on average.
4. User-Friendly
Not only can the SnapTable PRO Hyper-Lite be operated by one person–it's so easy to use that you can assign almost anyone from your team to operate it, even your novices. Save your more expensive skilled labor for the more technical tasks of roofing while your less experienced crew prepare consistently perfect metal panels.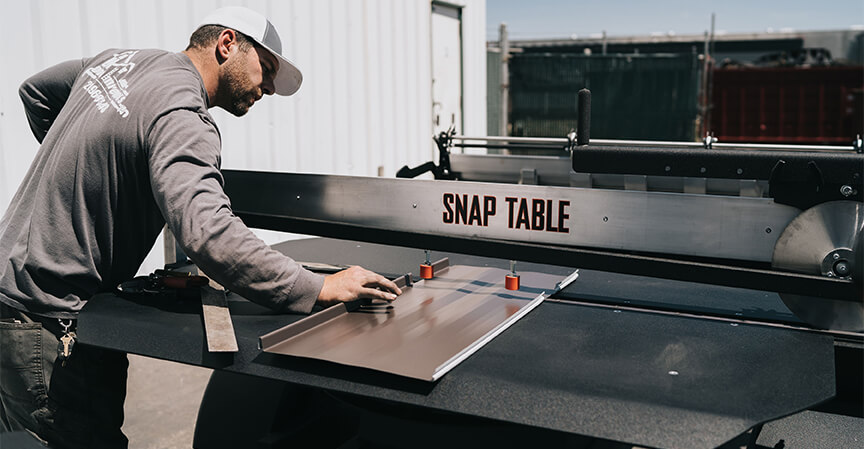 5. Time-Saving Operation
Prepare and cut perfect standing seam metal roofing panels in seconds, rather than minutes. The typical method of prepping panels requires a team of people to notch, cut and hem the panels manually, which can be quite costly both in time and labor. The SnapTable PRO Hyper-Lite simplifies the process and speeds up your operation significantly.
6. Consistent Quality
Manual preparation of metal roofing panels can yield inconsistent results unless you have only your most skilled craftsmen on the job. With the SnapTable PRO Hyper-Lite, you're assured of producing precise, factory-quality metal roofing panels every time, with stunning accuracy and very little effort.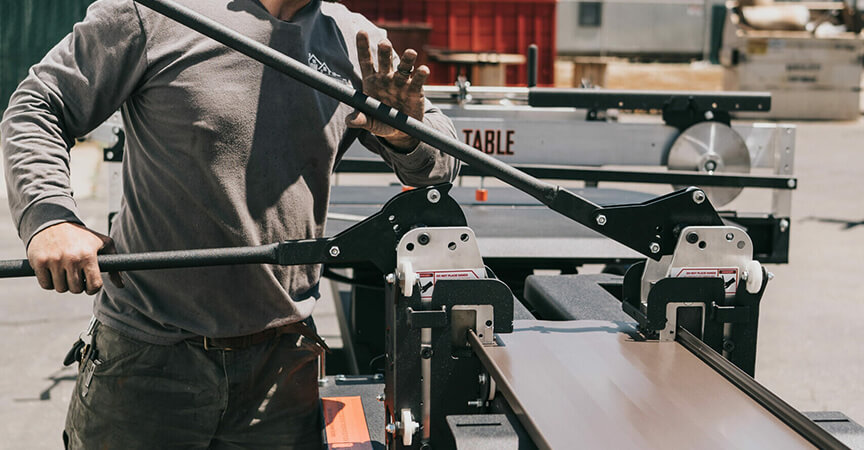 7. Lightweight and Portable
Forget the old days of prepping panels off-site and hauling them to the job site. The SnapTable PRO Hyper-Lite is installed on a super-lightweight towable trailer, enabling you to transport it to any job site and cut your standing seam panels on the spot. And since this tool requires no electricity, you can set it up anywhere on the job site without looking for a power source.
8. Built to Last
The SnapTable PRO Hyper-Lite is proudly designed and manufactured in the USA, made of top-quality, powder-coated steel. You'll be amazed at its ease of use and consistency of quality, and you'll be equally pleased at how much you'll save in time and labor costs as a result. Designed smartly with the professional roofer in mind, we believe this is the last standing seam panel tool you'll ever need.
Complete full panel preparation in seconds
Cuts, notches and hems your eaves, hips and valleys
Dies available to accommodate multiple profiles
Meant for all standing seam metal roof panels
Transportable
Adjustable jacks for leveling