Eave and Valley Hemmer
The Best Metal Bending Tool for Standing Seam Roofing
The Eave and Valley Hemmer is a metal bending tool that allows roofers to bend sheet metal roofing panels for standing seam roofing jobs without the use of hand tools like pliers and snips. This powerful hemming tool pairs perfectly with any sheet metal forming machine because it works on all different profiles. This standing seam bender will help you create the perfect hem on your metal sheet roofing panel in seconds. Unlike many sheet metal bending hand tools, the Eave and Valley Hemmer provides consistently perfect lines on your eaves, hips, and valleys. The standing seam bender has a rotating tabletop and adjustable teeth to always provide an even amount of pressure to sheet metal panels. It easily accommodates angle bends, as well — simply unlock the clamp and rotate the tabletop to the desired angle. With this innovative bending machine, your hemming operation will always produce high-quality, consistent sheet metal hems–regardless of who did the metalworking! Proudly designed and manufactured in the USA.
Get the Eave and Valley Hemmer with the SnapTable PRO
For maximum productivity and professional results when preparation your standing seam roof panels, use the Eave and Valley Hemmer as part of the SnapTable PRO. This amazing all-in-one roof panel preparation system can exponentially reduce your preparation time by enabling you to prepare and cut flawless, factory-grade panels to your desired specifications–and because the SnapTable PRO is towable, you can prepare roof panels right on the job site. Besides the Eave and Valley Hemmer, the SnapTable PRO includes the following additional components.
The Standing Seam Notcher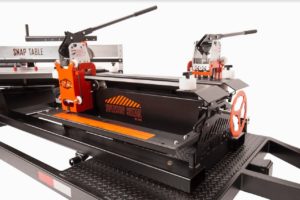 Eliminate your need for hand notchers with this precise metal notching tool. Create factory-grade cuts through standing seam ribs in seconds with minimal physical effort, and create notches in standing seam ribs on both male and female sides of the panel in record time. The Standing Seam Notcher can accommodate metal panels between 12″-24″ and cut straight or angle cuts up to a 29″ offset. Comes with your choice of custom dies.
The Panel Cutter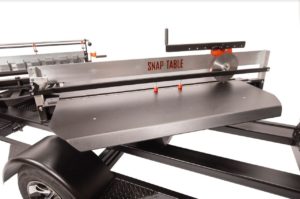 Once you use Swenson Shear's Panel Cutter, you'll never go back to cutting by hand. The Panel Cutter cuts through metal standing seam roof panels in seconds, giving you a perfect, burr-free straight edge cut every time. The panel cutter comes with a dual-edge blade, effectively doubling the life span of the blade and allowing thousands of factory-grade cuts before it needs to be replaced. The Panel Cutter is built for a max cut length of 60″ and offers 360-degree rotation to accommodate any workflow. The SnapTable PRO combines the Eave and Valley Hemmer with the Panel Cutter and Standing Seam Notcher to create an all-in-one tool that surpasses anything you've ever used. Best of all, it's simple to use, so even your novice workers can create perfect roof panels in seconds — all right there on the job site.
Read More
Specifications
Benefits Of The Eave And Valley Hemmer
Rotation:
360 degrees
Hemming Capabilities:
Up to 60 inches
Total Length:
64 inches
Weight:
350 lbs
Whether you use the Eave and Valley Hemmer by itself or as part of the SnapTable PRO, what advantages can you expect? Let's explore just a few of the benefits.
1. Single-Person Operation
The Eave and Valley Hemmer is conveniently designed for one-person operation, saving you potentially thousands of dollars a year in labor costs. Get more done with less labor, or allocate more of your work force to other tasks.
2. Remarkably User-Friendly
With the Eave and Valley Hemmer, even your more inexperienced workers can create consistently perfect eaves, hips and valleys. That way, you can assign your more skilled workers to more important tasks.
3. Factory-Grade Quality on the Job Site
Your roofing team will love the fact that they have to make fewer corrections and adjustments during installation. The Eave and Valley Hemmer yields consistent, factory-grade bends and hems–every single time.
4. Transportable to Any Location
The Eave and Valley Hemmer is lightweight and towable, so you can bring it to any job site with confidence. It also requires no electricity, so no need to worry about finding a power source.
5. Save Thousands of Dollars in Manpower and Work Hours
With the Eave and Valley Hemmer, you're creating perfect hems in seconds rather than minutes, cutting many hours off your work schedule over time. When you combine that with the reduced cost for manpower, you'll be recouping up to 40 percent of your normal operating costs!