Oak Farm Vineyards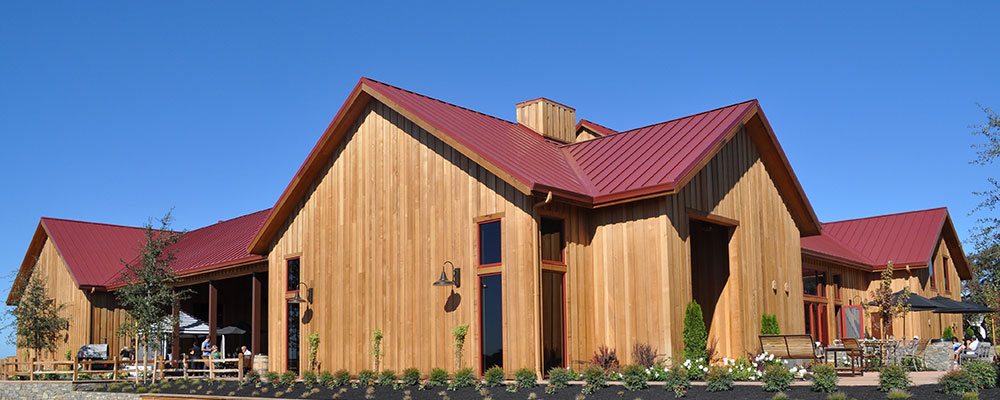 Drexel Metals Standing Seam Roofing Tops California Winery
DM-ARM contractor eliminated waste by forming panels on site
Meeting the requirements for durability and aesthetics, a standing seam metal roof from Drexel Metals tops the new Oak Farm Vineyards wine and hospitality facility in Lodi, Calif.
The Panella family, owners and operators of Oak Farm Vineyards, chose Colonial Red for the winery … 20,000 square feet of 24-gauge Galvalume in a 1-1/2-inch snap-lock profile with striations to mitigate the appearance of oil canning. The panels are 19 inches wide and up to 26 feet in length on an 8:12 pitch.
The wine and hospitality facility, built by Nickell Construction of Galt, Calif., includes a 360-degree tasting bar, floor-to-ceiling vineyard views, a private room for wine club members, two indoor and two outdoor fireplaces and a covered terrace.
A central plaza connects the tasting room with the winery, which includes a tank room, laboratory and barrel room – complete with chandeliers – for tours and special events.
In addition to the steep roof pitch, the design of the building included 16 time-consuming valleys, a job made easier once Drexel Metals arranged for the delivery of a SnapTable HD from Swenson Shear. "Initially, it took me and three guys four hours to install panels on one valley," Pruden said. "Once we got the SnapTable, it took us an hour, so it saved us a lot of time. It cut panels, hemmed them and notched them for us. I think it's safe to say it paid for itself with this one job."
The SnapTable HD features an adjustable table width to accommodate panels measuring 12-22 inches, a notching station equipped with a slope-calibrated ruler that allows for 29-inch notching offset and a slitter that cuts a 33-inch maximum angle.
Pruden says his company recently has seen an uptick in commercial business in its area and now manufactures and installs about 50 percent residential roofing and 50 percent commercial roofing. A new DM-ARM (Drexel Metals Association of Regional Manufacturers) member, Pruden was able to take advantage of Drexel Metals' engineered metal roofing systems and equipment and custom fabrication services. The DM-ARM program allows manufacturers and installers better control, more efficiency and the ability to provide "metal roofing on-demand."
McLauchlan pointed out that having panels and trim produced onsite eliminates damage during transportation and greatly reduces waste.
Drexel Metals Inc., headquartered in Louisville, Ky., with locations in Philadelphia, Baltimore, Tampa, Denver and more than 60 DM-ARM Authorized Fabricators throughout the U.S. Drexel Metals also has sales offices located throughout the country. For more information, call 888-321-9630 or visit www.drexelmetals.com or www.residentialmetalroof.com.